Maximus : Web Design Company Malaysia
Maximus:A Brand New, Innovative Web Development Solutions Company offers technology & know how for all of yourcompany's Web related needs.
Always up onthe very latest technology for Web Design, Content Management Systems, SEO, E-Commerce, Web Hosting, & E-Mail, Maximus is quickly becoming a leader within this niche industry.
Located in Malaysia's fast growing district, Cheras Selatan, Maximus' new office is located at Block Latitude, Jalan C180/1, Dataran C180, 43200 Cheras in downtown Selangor. (see Map here)This new office will support Maximus' existing client base, while at the same time becoming central to increase its business development efforts, assisting other companies with their own commercial development and growth.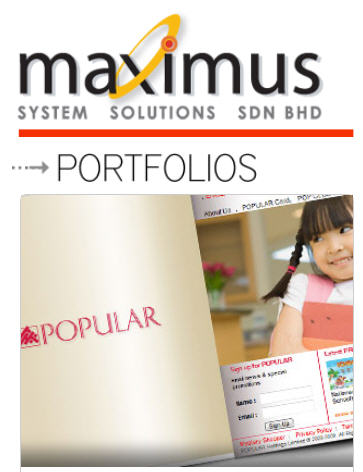 Popular bookstore is one of the client of Maximus

Maximus, successful since its beginning in 2013, has rapidly expanding over the past 12 months, adding to their employee count to support its quickly increasing client base.Billy Chong, CEO of Maximus has commented, " Maximus' vision is to be a great company which leading our valued clients to their next level of business growth through Online marketing and services.Our staff members work together for our clients, we are an intellectual power house and web innovator for hundreds of small- to mid-sized companies around the globe who need our help for all of their web solutions."
SEO is a constant challenge for any business.When designing a site, there can be an unending list of factors to consider.Each piece of SEO must be carefully thought out, created, implemented, tested, and revised.Maxiums' experts have the experience, education, and training necessary to help your customers locate your website.Maxiums understands that in the current ever changingweb climate, conditions and search engines' algorithms can be revisedfrequently and unexpectedly.You can't afford for your customers and potential customers to not find you.
CMS, required for a perfect and smooth page transition within your site, is an important consideration not only for your site's efficiency but more importantly for your company's image.Maximus' exerts can create a CMS system specific to your company's needs, without your employees having to undergo special training (causing unnecessary downtime), allowing your employees to easily update content with limited down time for maintenance.
For e-commerce solutions, you can't find better than Maxiums.Providing web-based/e-commerce assistance to businesses, they will help you maximize your profits by focusing on increasing revenue while decreasing expenses.Whatever your business, Maximus can tailor the commerce side of your business, freeing your employees to concentrate on marketing and sales, instead of troubleshooting.
Maximus, recognized as an expert of web solutions within the industry, is now poised to assist businesses with market penetration, brand recognition, and a strong web presence, all to assure success for your business. For more information, please visit http://www.maximus.com.my