Missed your young looking skin? Let Shakura™ revive your youth.
Our story begins with one simple reason–to help retain youthful and radiant skin in every stage of life. Inspired by the smooth and luminous skin of the milk farm house lady, Shakura™ pigmentation expert discovered the secret of Milk Essence. Great discovery has evolved into mission of ours, to enhance the secret to a revolution.
Years of research was brought to the perfect marriage of Milk Essence and Red Ruby Roselle.
Introducing Shakura™ Formula, specially formulated with the perfect combination of Milk Essence and Red Ruby Roselle, which is naturally enriched with Vitamin C and amino acid. Shakura™ Formula repairs and rehydrates pigmented skin from deep within.
The formula also acts as an anti-oxidant with intensive-humectants hydrating properties to improve skin texture and promote blood circulation, Shakura™ Formula giving you a smooth, radiant and luminous skin free from pigmentation spots.
Here in Shakura™, we understand you. In just 1 session, 6 signs of pigmentation will be visibly repaired.
Effortlessly you will expect a clear skin with lesser dead skin cells, encourages the growth of new skin cells, rehydrates and revives soft, smooth and radiant skin. It also helps to improve your skin by unclogs and minimizes pore size, visibly lightens pigmentation and stimulates the production of collagen and elastin.
Being beautiful is not rocket science; it is Shakura™ mission and commitment to you. During Shakura™ Formula treatment you can expect an intimate one-on-one consultation session, comprehensive skin analysis and close monitoring of your progress.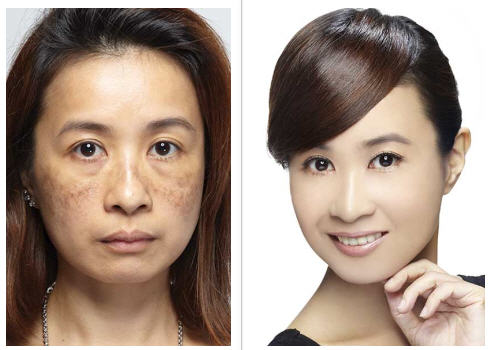 (Wong Yoke Chan, 45 years old, Company Manager, Pigmentation)
Tested and proven the effectiveness, our customer Wong Yoke Chan speaks to us on her pigmentation problem. She used to have pigmentation patches when she turned 40 years old.
"Many advanced skin care products could not solve my problem but the treatment by Shakura™, the pigmentation expert from Japan, made my age spots disappeared! I look so young again!"
Let us present to you a chance to pigment free skin, be amazed! Visit any Shakura™ ™ outlets or log on to http://Shakura.com.my/ for more information.